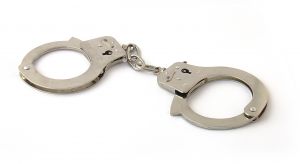 Armando Arriaga, a 46 year old California Highway Patrol officer, plead guilty on Tuesday to driving while under the influence as well as reckless driving. Mr. Arriaga was arrested on July 7th after witnesses reported that a BMW was slowly and repeatedly tapping the rear bumper of a PT Cruiser in an alley in downtown Oceanside. When Oceanside Police officers arrived they found Mr. Arriaga and his wife Melanie Arriaga both out of their vehicles. After police questioning, they learned that both Mr. and Mrs. Arriaga had an argument after spending the whole afternoon drinking wine at their home. Mrs. Arriaga decided to go sleep in her car to get out of the house, but when Mr. Arriaga constantly bugged her to come back inside she left for her cousin's house a short distance away. Mr. Arriaga pursued her in his BMW in attempt to change her mind to come back home.
Melanie Arriaga informed the officers that her husband didn't mean her any harm and had never hurt her in any way. However, the Oceanside officers arrested and booked him into jail with charges of assault with a deadly weapon as well as driving while intoxicated (DUI). Mr. Arriaga's blood alcohol concentration level measured 0.17 percent which is double the legal limit of a 0.08 percent. Mrs. Arriaga was also arrested and booked into jail on DUI charges, but her blood alcohol level measured at 0.04 percent. Oceanside police officers investigated this case thoroughly to make sure there was no signs of domestic violence, especially not to show bias towards a fellow Police Officer.
Mr. Arriaga was sentenced to five years of informal probation, a $2000 dollar fine, ten (10) days public works service, alcohol program/classes for first time DUI offenders, and 100 hours of community service. The punishment is slightly harsher than a regular first time DUI conviction in San Diego County. However, the judge felt that because of Mr. Arriaga's job as a Police Officer that better behavior was expected from him. Law enforcement officers who allegedly violate the law are also innocent until proven guilty beyond a reasonable doubt! But once they plead guilty or are found guilty by a jury, their punishment should be harsher as they have sworn an oath to protect and serve!
To find the full article visit here: OCEANSIDE: CHP officer pleads guilty to drunken driving