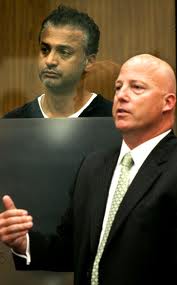 Actor, Shelley Malil, appeared Wednesday in a Vista courtroom for trial on charges of attempted murder, assault with a deadly weapon and burglary. Many of you may remember Shelley Malil and his role in the hit 2005 comedy, "The 40-Year-Old Virgin", but he has also appeared in a Super Bowl beer commercial as well as numerous television programs. In August 2008, he allegedly assaulted Kendra Beebe allegedly fueled by rage and jealously. Mr. Malil pleaded not guilty to all three charges-attempted murder, assault with a deadly weapon, and burglary-against him.
Mr. Malil faces a potential life sentence in prison because the prosecution, Deputy District Attorney Watanabe, says that the attack was planned out (premeditated) by Mr. Malil. Evidence supprotingg the prosecutions' theory is the alleged bringinga knife from his apartment to Ms. Beebe's home and then breaking in and assaulting her. Mr. Malil allegedly 'surprised' Ms. Beebe on her back patio while she was having a drink with one of her friends. It was at this time when Mr. Malil started his attack stabbing Ms. Bebee several times.
Ms. Beebe's friend stated that he was able to wrestle the knife away from Mr. Malil but then left to go get help. But while he was gone, Mr. Malil allegedly grabbed another knife, according to prosecution attorney Watanabe, and continued the violent stabbing of Ms. Beebe. Finally, the attack ended when her next door neighbor responded to an array of screams. It is alleged that Ms. Kendra Beebe suffered at least 23 stab wounds several of which were life threatening, one of which was within an eight of an inch of her carotid artery.
Background information gathered allowed prosecution to find that Mr. Malil and Ms. Beebe met on and online dating site, but their relationship was rocky and very troublesome. During the falling out of the relationship Mr. Malil had e-mailed photos of him and Mr. Beebe having sexual intercourse to her employers. Nevertheless a week before the attack the couple appeared together at a red-carpet event of a Woody Allen movie.
The full article can be found here: REGION: Attempted murder trial for actor Shelley Malil set to begin